Quarantine time is very trying and well itis something we have to deal with, no option there. Now it is upto you how you utilise this time. Some are working out, some have to work from home, some are like on forced vacation at home, and some have taken to cooking. Now cooking is something many who don't even do it themselves and have had some help, are now doing it, trying different recipes. This is not just you and me but our celebs as well. They are making all sorts of dishes from an omelette to cookies to stews. So here is more inspiration to show you that celebs are just like us and cooking is a good way to utilise time.
Sara Ali Khan's Omelette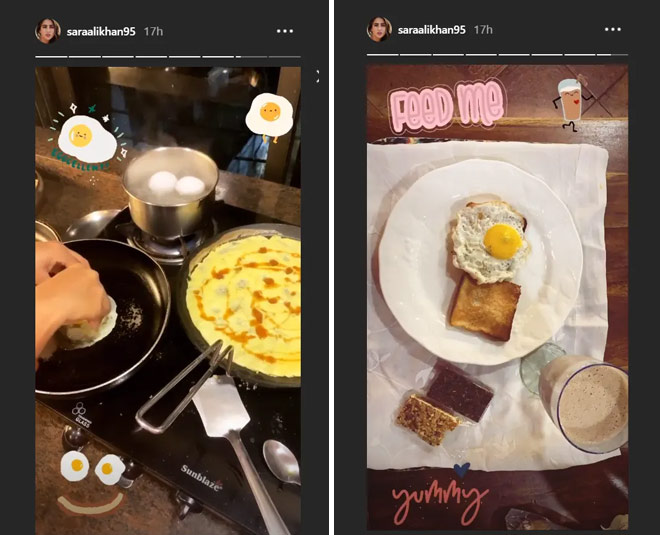 This actress took to Instagram to share pictures of her making breakfast using different kinds of egg recipes. She shared a boomerang of her making the omelette and also a picture of her breakfast spread.
Mini Mathur
View this post on Instagram
Mini Mathur shared a video wherein she taught her fans how to make gajar gobhi shalgam achaar. She shared the full recipe of the pickle from her grandmother's archive. She captioned the video saying: "Quarantine Cooking - Mathur Style Since there's only as much one can do while in self-isolation, I'm busy being a domestic goddess... rearranging the fridge, pantry, linen closet and yay I have finally edited my gajar gobhi shalgam achaar recipe."
Don't Miss: Ditch Those Chips & Chomp On These Healthy Snacks While Working From Home
Malaika Arora
Malaika Arora shared a video where she was cooking a Malabari veg stew. She captioned the video saying: "I love to cook! I love cooking for my family and friends but with my busy schedule, I hardly get time to pursue this passion of mine. But with this self isolation upon us, I thought of utilising this time in a constructive and healthy way by cooking some sumptuous and delicious 'Malabari veg stew for the soul'. I have got this recipe from mom @joycearora and a bit from my friend Maunika @cookinacurry who's a lovely cook. Everyone at home simply loves this stew and we are going to have it with some white rice and some delicious gluten-free, vegan chickpea bread that my friend Raveena @iamayogisattva made for me. M in for a lovely treat, I hope you too utilise this time to do something positive and healthy. Stay calm and stay safe!"
Ananya Panday
View this post on Instagram
Ananya Panday shared pictures of her and her sister with some freshly baked cookies. She captioned the picture by writing "we baked cookies! (and by "we" I mean @rysapanday baked cookies -I just danced around the kitchen and ate chocolate chips) #StayHome #StaySafe #JantaCurfew."
Mouni Roy
View this post on Instagram
Mouni also has taken up cooking very seriously. She shared this image with the caption: "Someone once said practice before you can preach , as you can see it's been a while being self quarantined am trying to find ways to be productive, use my time widely to spend time with the humans I adore , practice patience and love, pray & meditate for an hour everyday at least ; acquired a new found interest in cooking (dunno how long that ll last) which am trying to participate in everyday ( & not eat everything at once); Read & write; do homework with my boys. Painted something after 7 odd years ; trying to paint a series, uncertain of how they ll turn out... all this just to say let's continue doing things that actually matters with people who mean everything with-out all the bullshit, live the stories that ll make our days beautiful and life meaningful.. this is probably the scariest time we're all living in .. have never known/felt more fear and panic in the entire social structure, all communities, can only hope we all are doing our best to eradicate it. प्रणाम , gratitude and love to the doctors, nurses and medical staffs and units working tirelessly.. I know this isn't a holiday but we surely can use the time fairly, as there re many daylight & dusk hours still to fill".