It was a massive hailstorm and then it snowed! Rajasthan's Nagaur district got snowed in and we are not really psyched dear readers. Not sure it is good or not as climate change, Global Warming, is real and we cannot have a better proof of how things are changing. Imagine snow in Rajasthan! You "want to build a snowman" but only when in Kashmir or Himachal... Here is what has happened.
The desert state of Rajasthan got a hail storm which turned the district of Nagaur All White! This place is located between Jodhpur and Bikaner. The weather which was totally not expected god bad and it rained like cats and dogs so much so that the raindrops turned into hailstones also called ole in Hindi. It, in the end, looked like Kashmir valley, dear readers.
View this post on Instagram
The roads, as you can see in the above video is nothing but snow, the crops are damaged and as per the news shared by ANI, animals and birds are facing severe brunt! Residents of Nagaur may have seen snow for the first time, the kids must have been excited but they deep down know that it is not a good sign!
Don't Miss: 5 Reasons Why You Must Celebrate Christmas & New Year In Auli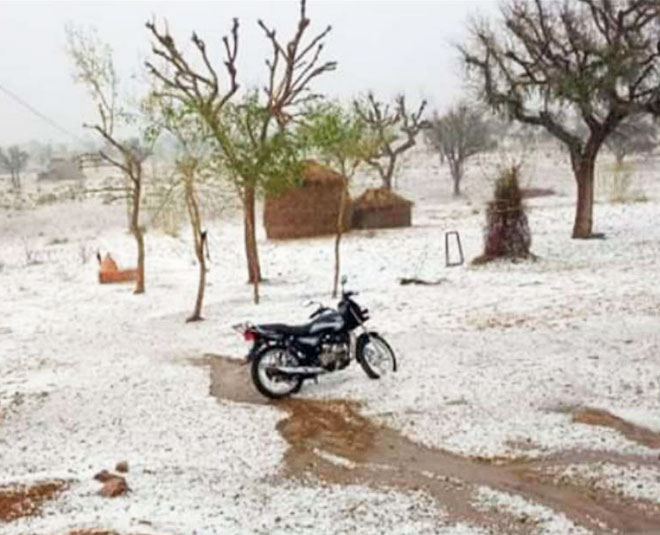 This state sure gets a bit cool in these two-three winter months but snow?! Right now the weather in Nagaur is 18 degree celsius.
With this new development, even the regional meteorological department has issued a red alert in the higher altitude regions of Uttarakhand. As reported by ANI, the India Meteorological Department has said that dense fog to very dense fog is likely to hit North Rajasthan in the next 24 hours, while a dense fog is likely in the same area on December 15.