Gone are the days when celebrity kids like Taimur Ali Khan were born with paparazzi hovering in their corners, tracing their every move. Little Tim became the nation's obsession as fans would adore his cute snaps. We can't blame the paps for doing their job. These photographs are very lucrative and earn them good bucks.
However, the scrutiny star kids go through everyday by outsiders can be concerning and not just for their privacy. Growing up with cameras around you all the time can be a daunting experience. No wonder new-age celebrity parents have begun preventing paps from shooting photos of their kids. Here are a few of the Bollywood parents who have tried to establish some boundaries for their kids.
Mira-Shahid
Shahid and Mira Kapoor have said time and again that they are extremely protective of their kids' privacy. On January 3, 2023, Shahid and Mira returned from their family vacation with their kids, Zain and Misha. The paps followed the adorable family as they arrived at the Mumbai airport. Shahid got visibly angry at the paps' for flashing their cameras on their kids. The duo rarely share glimpses of their kids on social media. The infuriated Shahid lashed out at the paps and said, "Kyun le raha hai video? Kyu le raha hai? (Why are you taking the video? Why are you taking it?"
View this post on Instagram
Mira has also issued a strict warning to the paparazzi before. In the early months of 2020, she requested the paps not to snap photos of her children because she dislikes flash bulbs going off near Zain's face. She repeated, "I have told you not to take his pictures, yet you are doing so."
Don't miss: Alia Bhatt Radiates Post-Pregnancy Glow At Shaheen Bhatt's Birthday Bash
Ranbir-Alia
The Bollywood power couple has gone through great lengths to prevent the paps from photographing their new-born daughter, Raha. Ranbir and Alia even hosted a special meeting with the paparazzi, requesting them not to click pictures of their lil one until she turns two years old.
View this post on Instagram
Alongwith the veteran actress and grandmother Neetu Kapoor, the star couple explained all the reasons as to why they want to keep their two month old daughter away from the media gaze, till she grows up. They also assured the paparazzi that at the right time and age, they would allow them to click pictures of their kid.
Sonam-Anand
Recently, Sonam Kapoor was spotted at the Mumbai airport as she left for Dehradun. She asked the paps to not click pictures of her son Vayu, and they accepted her request. Sonam occasionally shares pictures of her son, but without revealing his face. She shared a post on Instagram with her husband Anand, taking Vayu on a walk in the sun, but their backs were facing the camera.
View this post on Instagram
Anushka-Virat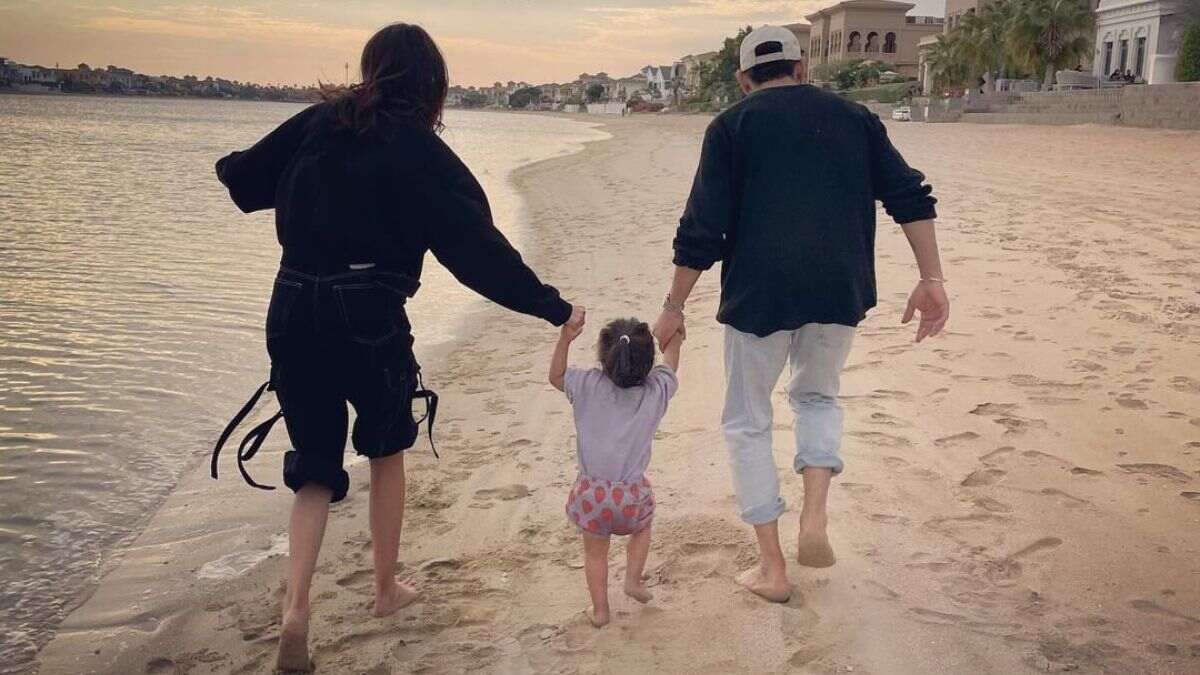 During the India vs. South Africa cricket match in Cape Town in January 2020, all the cameras were facing towards Anushka Sharma and her daughter Vamika. Sharma later said that they were caught off-guard and were not aware that the cameras were on them. The official broadcaster took a pan shot of Anushka Sharma holding Vamika and cheering for team India to win the game.
She took to Instagram to share her concern. The story was also published by Virat Kohli on his account.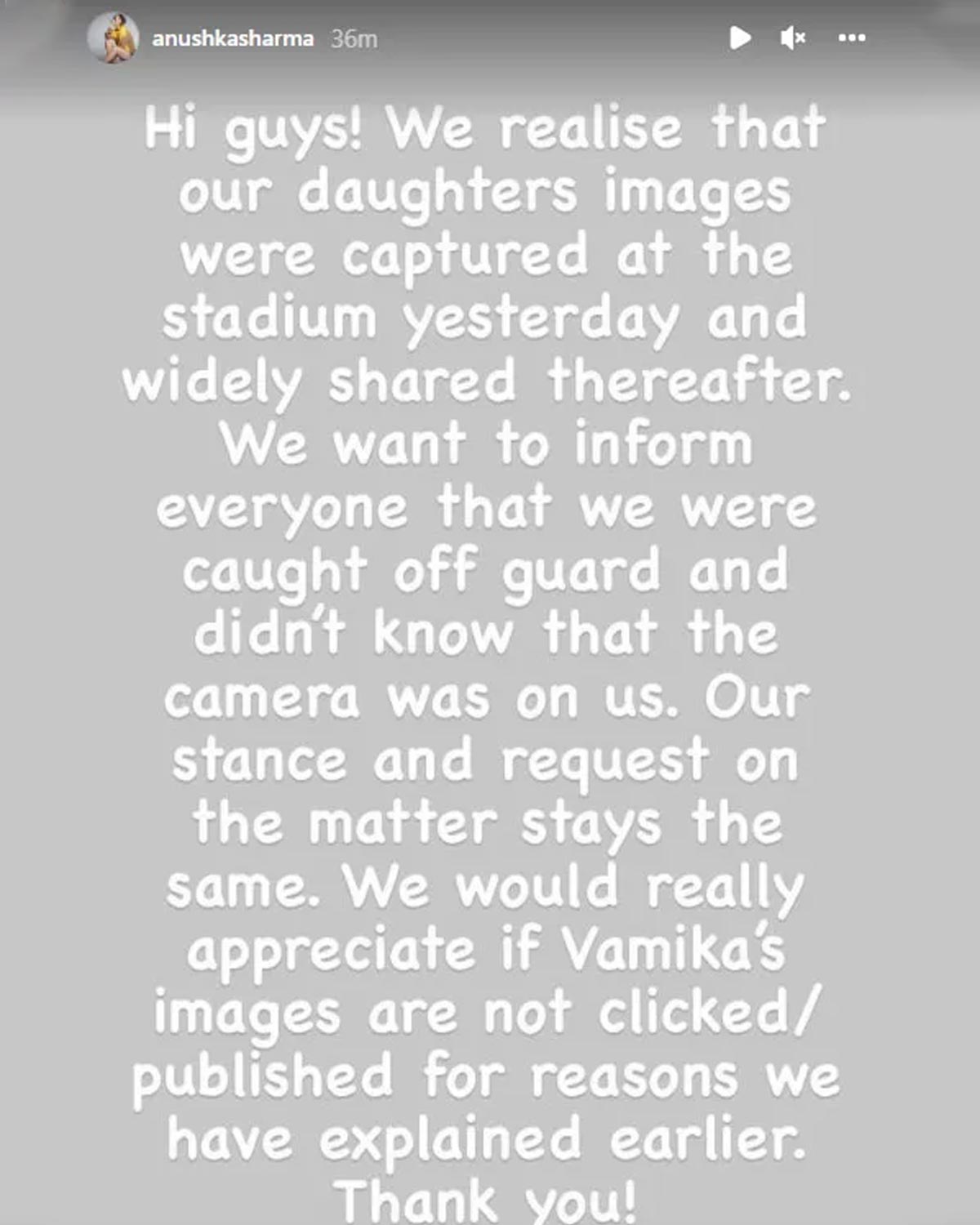 In May 2021, Virat explained the rationale behind not sharing Vamika's photographs or videos on social media during an Instagram Q & A session. He said, "we have decided as a couple to not expose our child to social media before she has an understanding of what social media is and can make her own choice."
Don't miss: Alia Bhatt Speaks On How She Would Feel If Her Daughter Wants To Pursue Acting
Priyanka-Nick
View this post on Instagram
Priyanka Chopra and Nick Jonas have been very particular about not showing Malti's face in pictures. In a reel shared by Nick with a 2022 recap, he made a montage of his favourite memories of that year. One thing was pertinent in all his photographs — no disclosure of Malti's face. He was extremely careful as he put a heart sticker on his baby girl's face and showed unseen pictures of only Malti's tiny hand on PC's face.
View this post on Instagram
Earlier too, Priyanka shared a cute selfie with Malti, but she was facing her back towards the camera.
Did you like this article ?