Who said you can ace your makeup game while wearing glasses? Yes, you might have your doubts on following your regular makeup routine but it isn't that difficult.
While rocking your glasses, you can still manage to highlight your makeup. How? Here we have a guide for you. Follow these quick makeup tips on days you wear glasses. Read on
Don't Miss Paying Attention To The Eyebrows
Your eyebrows frame your face and you can't miss setting them while doing your makeup. If you have gaps in your eyebrows, fill them using an eyebrow pencil or gel. Always start from the inner corner and then go outwards. Using a spoolie, brush out your brows to keep them in place.
Make sure you don't overdo it or you can end up spoiling your makeup.
Conceal The Under Eyes
A lot of us who wear glasses suffer from a dark and dull under-eye area. To cover pigmentation and dark circles, apply some concealer. Also, the concealer helps in highlighting your eyes. Apply in small dots and then pat into the skin with your fingers. Using a brush can lead to the creation of lines. Always pick a concealer two shades lighter than your skin tone.
Don't Miss: How To Use A Concealer To Hide Your Dark Circles And Fine Lines
Pick Something Colourful For The Eyelids
If you want your eye makeup to stand out then you can use colours from a bright shade palette like pink, orange, purple, yellow. You can wear a thick liner in any of these colours or wear an eyeshadow from the same palette range. You can also opt for shimmery eyeliners/eyeshadows.
If you are going for an eyeliner, go for a thicker liner if you have a thick frame. For a thin frame, line your eyes with a thin eyeliner. Winged liners work best for women who wear glasses. You can use a white or nude coloured eye pencil on your lower lid to open up your eyes. Don't forget to finish off your eye makeup with lots of mascara.
Go For A Light Coverage Base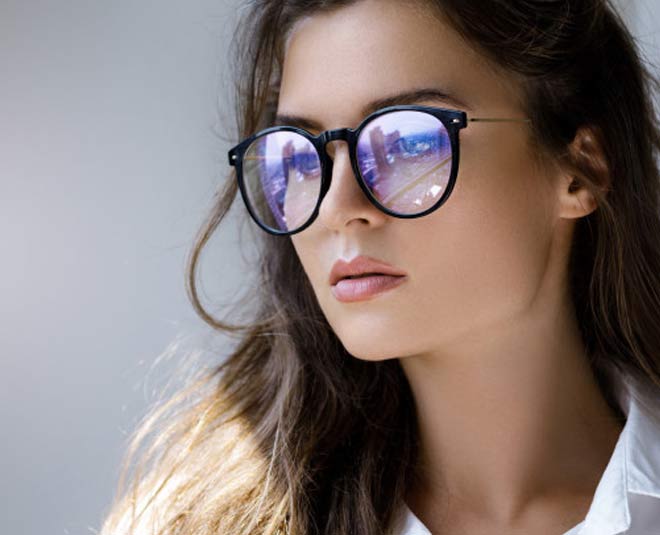 Do you suffer from glass marks around your nose and cheeks? If you wear glasses, you should go for a light coverage foundation if you don't have prominent pigmentation or acne. Avoid going over with your foundation as it can start to melt around the eye area if you sweat a lot. Make sure you finish off your makeup with some setting powder. This will help you hide any unwanted marks on your face.
Use Some Colour On Your Cheeks
Not just your eyes and lips, your cheekbones will get equal attention so don't forget to apply a bit of colour on the apple of your cheeks.
Don't Miss: Make Homemade Cheek Tints For A Rosy Look
Pick A Bright Lip Shade
Don't wish to work on your eye makeup but still want to look fashionable? The best hack is to finish off with bright coloured lipstick. This will highlight your face. However, if you are going heavy on the eye makeup, you can finish off your look with a nude lipstick.
Don't forget to finish off your makeup with a setting spray if you don't want your makeup products to stick on your glass frames. We hope this guide helps you do just the right makeup on days you are wearing glasses. For more such beauty-related stories, stay tuned.