We all have dreamed to be like beauty queen Madhuri Dixit in some point of our lives. In all these years, we have seen her warm, beautiful and charming personality on the silver screen. Through the years, she has maintained that youthful charm and not let her age take over. Today, Madhuri is in her 50s but does she even look that old? No, Madhuri has that young charm on her face that still makes her look like in her 20s. She is a mother of two kids, a wife, a celebrity and she has so beautifully managed it all till date. She looks super fit even today and we wonder how she looks this flawless! But finally, we know it all. Madhuri has finally revealed her fitness secret, she also shared her everyday. Read along to know:
Coconut Water For Breakfast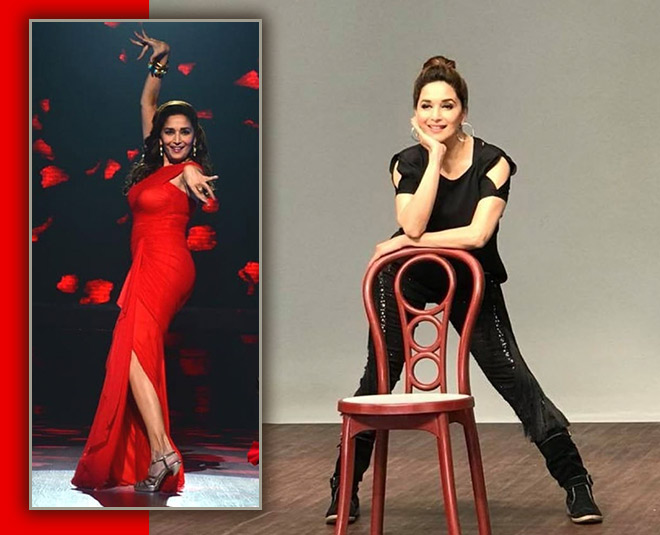 Well, we all envy Madhuri Dixit's flawless skin! Even in her 50s, Madhuri manages to look in her 20s. But do you know what makes her look this beautiful? She just shared the secret with us! Madhuri drinks coconut water every morning. She never forgets drinking it in the morning. For breakfast, she loves having poha, oats, upma or dosa.
Picks Something Light For Lunch And Dinner
Madhuri Dixit says that there are times when she is unable to have her dinner but she never misses having her lunch. She needs a proper lunch with some rice, gravy and lots of green salad. She also likes drinking buttermilk with her lunch.
She shares that whenever she has her dinner, it is something light like boiled sprouts, soup or a chapati with curd. Madhuri also shared that even though the food is prepared separately for her kids, once a week, her kids have a healthy diet with her. She tries to keep her children away from eating too much junk food.
Dance Is A Part Of Her Fitness Routine
Dance is a part of Madhuri's fitness regime for years. She has been dancing for years now and it a part of her everyday exercise. She believes that all dance forms are great for workout and it really helps you to keep yourself healthy.
READ MORE: Get A Toned And Fit Body Like Shilpa Shetty With Her Fitness Secret
Madhuri Dixit has our heart truly for the woman she is! She has a really warm smile that wins our hearts every single time. Do you love Madhuri Dixit too? Tell us which one is your favourite movie of hers?