Having clear and healthy skin is everyone's dream, and we do everything to achieve that. From investing in high-end products to trying all the home remedies, we leave no stone unturned to get rid of those bumpy and painful pimples. But what if we tell you that you can bid adieu or prevent that stubborn acne, even before they start developing? Well, yes it's possible and all you have to do is follow some simple tips to get that skin of your dreams.
Using The Correct Cleanser
Everyone knows the importance of washing up the face every morning, but we hardly pay attention to our cleanser. Your cleaner needs to be mild and should clean your face without stripping it off from its natural oils. When the cleaner is harsh, it leaves your skin dry or forces it to build more oil leading to breakouts.
Moisturizing The Skin
Moisturizing your skin can prevent the chances of making it extremely dry or oily. Most people with oily skin skip their moisturizer, thinking that it will only make their skin greasy. When you skip your moisturizer your skin starts to produce excess oil to compensate which ultimately results in acne. If you have oily skin you should opt for gel-based moisturizer and if you are someone with dry skin then go for cream-based moisturizer.
Don't miss: Nutritionist Suggests 2 Simple Hacks To Get Clear Skin
Keeping A Check On Diet
The food you eat shows on your face, hence it is important to have a healthy and balanced diet. When you eat too much junk or diet which is high in refined or processed food it leads to the buildup of acne. Your acne can also be a result of bad gut health, it is important to include natural probiotics like yogurt in your diet. However, you need to keep a check on your dairy product intake; too many dairy items can also lead to pimples.
Hydrating The Skin
You need to keep your skin cells hydrated by not just applying a moisturizer topically, but also by providing enough hydration to the skin from within. To hydrate your body and make it free from the toxics, you should drink at least 8 glasses of water daily. Hydrated skin is free from pimples and acne, and adds a healthy glow to the face.
Don't miss: Weird Reasons Why Your Skin Is Breaking Out Suddenly
Rubbing Ice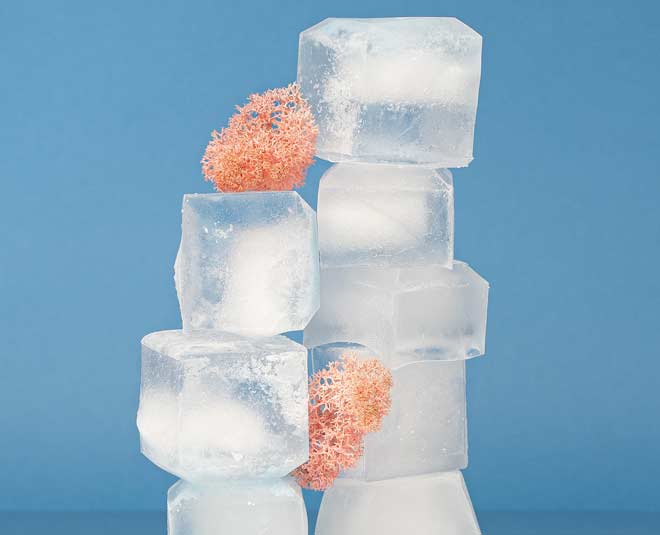 Ice cubes can help reduce the swelling and inflammation caused by acne. You can rub the ice on the area where you feel the pain of a pimple or cyst developing. Another hack to reduce the pimple is, take a fresh leaf of aloe vera and squeeze out the gel, then put this gel in your ice tray and let freeze. Now once it gets to freeze, take out the ice and rub it on your face after washing your face and before going to bed. Do not forget your moisturizer once you have applied the ice on your skin.
We hope you found these tips to keep your acne away useful. Stay tuned to Herzindagi for more such stories.