The hair on our heads is one of the most well-kept parts of our bodies, especially for women. Styling them in various ways enhances our appearance and allows us to have a different look every time. However, when we start to lose our hair due to hair fall, it could be really annoying and upsetting.
The hair loss issues could be caused by a variety of factors. But regardless of the cause, it can be stressful for everyone and can lead to a lack of self-confidence. So, to get rid of all of this, hair expert Jawed Habib has provided some helpful suggestions to help you control hair fall.
1. Wash Hair With Right Shampoo
Wash your hair and scalp with mild shampoos or special shampoos to prevent hair fall. Using a mild shampoo will help reduce breakage and dryness of the scalp. Whereas, if you use harsher formulas, it may dry out your hair and cause it to break, leading to more hair loss.
2. Don't Apply Conditioner Or Hair Mask On Scalp
While applying hair conditioner or hair mask, make sure they don't touch your scalp. They should only be used on the bottom two-thirds of the hair. After the use, make sure to rinse them off properly.
3. Have A Good Diet
A good diet is excellent not just for hair but also for overall health. You can reduce hair loss by consuming a diet rich in proteins and vitamins. This will prevent hair loss and, in the long run, make your hair healthier.
4. Yoga Poses To Relieve Stress
Several stress-relieving yoga poses are said to be useful in preventing hair loss.
One of the main reasons for the hair loss is Stress and Stress relieving yoga can reduce the hair loss. Some stress relieving yoga poses are Bhujangasana, Paschimottanasana, Makarasana, Ustrasana, etc.
Don't miss: Battle Stress & Relax Your Mind, Body By Practicing These Yoga Asanas
5. Massage Scalp
Get a scalp massage on a regular basis. When giving a massage, use essential oils. This will improve blood circulation and prevent hair loss.
Slide your fingertips under your hair and onto your scalp for a nice head massage. Use the balls of your fingertips and go in gentle circular motions. This will stimulate your entire scalp.
6. Use Wide Tooth Comb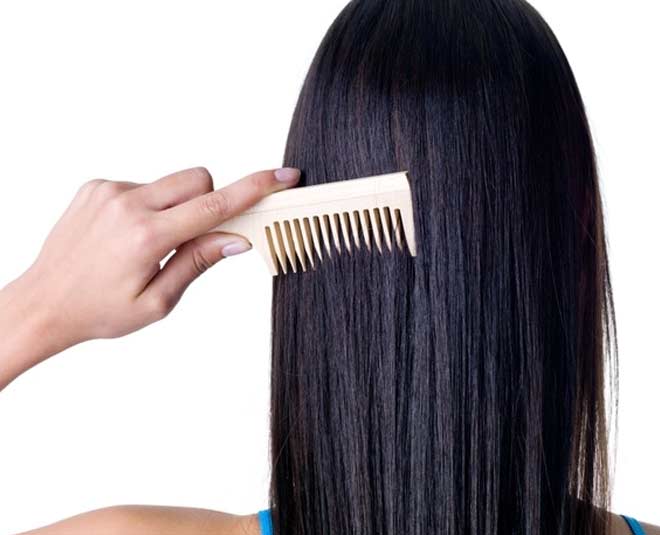 For people with hair fall problems, it is advised to use a wide tooth comb to detangle the hair. This prevents unnecessary hair breaking and allows you to comb your hair more easily.
7. Avoid Chemicals
Avoid the use of chemicals on hair as much as you can if you have a problem with hair fall. This is because use of chemical products can cause more hair fall.
Don't miss: Here's The Difference Between Hair Fall And Hair Thinning
8. Use Onion Juice
Onion juice is a popular way to nourish your hair. They're also suggested for reducing hair loss. Use onion juice as a remedy for hair loss.
9. Avoid Heating Tools For Styling
Try to avoid the use of heating tools for styling hair on a regular basis. Regular use of them can cause harm to the hair, causing hair fall.
These simple tips will help you minimize hair fall to a large extent while also giving your hair a healthier appearance.
For more stories and tips like these, stay tuned to HerZindagi!
Did you like this article ?