Carrot is a vegetable that is very rich in Vitamin A. This allows carrot to be an excellent ingredient for skincare products because it makes the skin fresh and even helps in releasing its toxins. Along with this, Vitamin A is well known to heal the skin in case of breakouts of acne and acts as a natural moisturizer. It makes the skin glow with its natural hydration properties. Overall, Vitamin A, something that carrots are loaded with, is excellent for the skin. That is why you should ensure you have carrots in your daily beauty routine. However, in such a hectic schedule when we hardly have time to even wash our face more than twice, how will we make carrot packs on a daily basis and give our skin the care that it needs? Well, a way out of this is to use carrot soap bars right when you are taking a bath. Make one soap bar, and you are set for at least a month of skin pampering!
Now, this may sound complicated but making a carrot soap bar is extremely simple. Just follow these simple steps to make yourself a ready-to-use, natural carrot soap!
Materials Required
Puree of 2 baby carrots
650 grams coconut oil
140 grams shea butter
140 grams sunflower oil
340-milliliter lye which is also known as sodium hydroxide
1 tbsp honey
5-6 tsp carrot seed essential oil(optional)
½ tbsp tamanu oil
Soap mold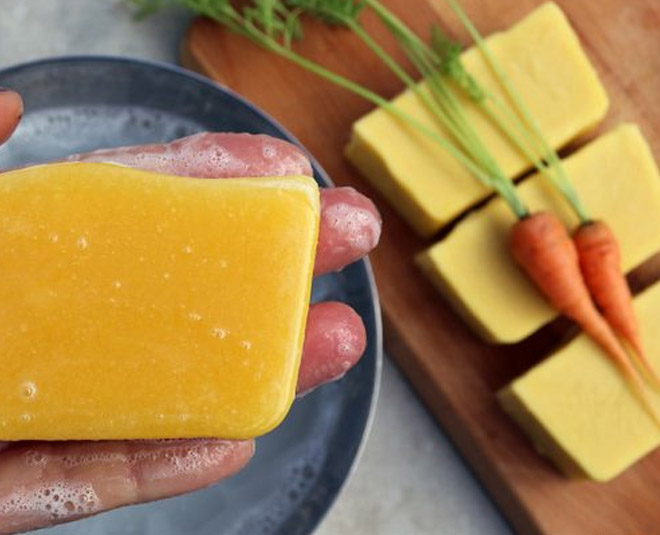 Image Credit: lovelygreens
Word Of Caution
Before we get to making the soap, it is important to know that lye can be a little tricky ingredient to work with so be careful. Keep children away, use eye protection and gloves. When mixed with water it can cause fumes, which is natural. Do not go close to the fumes and let it settle with water before you start using it. However, don't skip lye because that is what initiates saponification, which is a process of converting oils to soap.
Read More About Making Soaps-Here's A Simple Way To Make Melt And Pour Soaps At Home
Instructions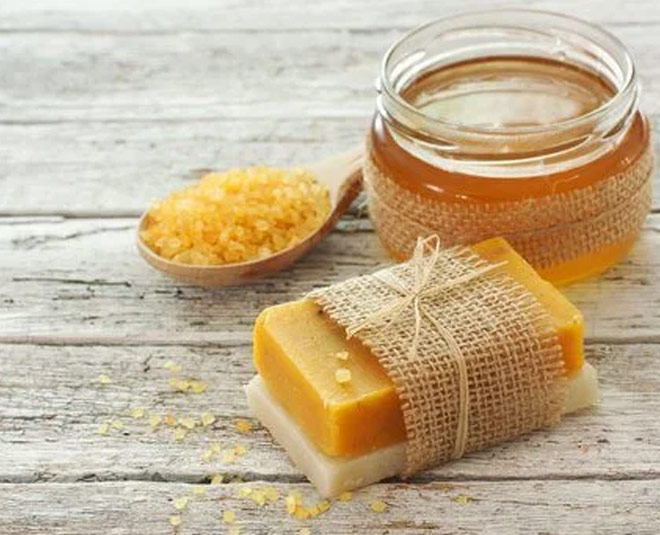 Image Credits:steptohealth
Take the warm lye solution and add the carrot puree to it, give it a good stir.
Take a bowl of cold water and place the container of lye solution and carrot puree inside it to cool it down.
In the meantime, melt your oils and mix them all. Make sure this mixture as well as the lye solution is not above 35 degrees celsius.
Take a sift and pour the carrot lye mixture over it into the bowl of oil. Stir and incorporate the mixtures.
Mix it well. You can also use an electric whisk. Do this till it thickens and forms a custard consistency.
Add the scent of your choice in the form of any essential oil.
Pour the mixture into the mold and wait for at least two days and then cut it into bars. If you don't wait long enough, the soap will not hold itself together.
Make Turmeric Soap At Home- Make Your Own Turmeric Soap At Home!
Follow these steps and make yourself a perfect carrot soap! Stay tuned to Her Zindagi for more such content!