We all wish for a glowing and spotless skin! Summer season is here and it is time you start taking care of your skin to keep all skin problems at bay. The scorching heat can lead to so many skin problems. While we are all ready with our summer essentials to fight against all these problems, do we really understand what side effects can these have on our skin? All those sunscreens, gels, lotions, packs that you use have their own after-effects on your skin. So, better than investing in all these beauty products, why not try something natural? We all know that nothing can beat the goodness of natural ingredients.
This summer season, switch to natural remedies for your skin problems. Here, we share with you a great natural drink that will help you clear your skin from the inside. Read on.
Amla And Honey Juice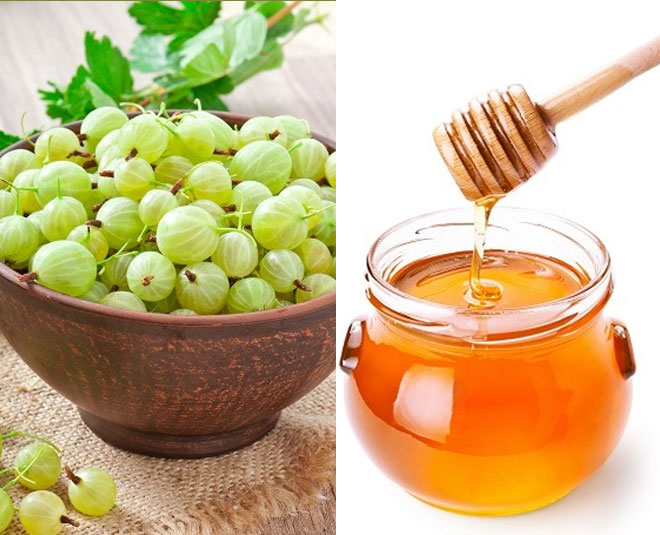 Indian gooseberry or Amla is one of the most nutritious fruits. It is packed with the goodness of vitamin C. For years, it is being used in beauty products. It is believed that Amla is a great remedy for ageing signs, dull skin, and skin problems. On the other hand, honey too is great for your skin. It is full of antioxidants and it makes your skin looks young and beautiful.
Skin Benefits Of Honey
Honey helps in moisturising your skin deeply. It also clears off your pores of all the dirt and oil that is a common problem during this season. Honey has antioxidants that fight acne and pimples. Honey gives you a natural glow from within by hydrating your skin. It also helps in brightening up your complexion. Don't Miss Honey Is The Ultimate Solution For All Your Skin Related Problems
Skin Benefits Of Amla
Amla has vitamin C that lightens your complexion. It has antioxidants that prevent premature ageing. Amla is also a great remedy for acne and pimples.
How To Make Amla And Honey Juice?
To make this juice, you need some amla, honey, and water.
Directions:
Take 5 to 6 amlas and then chop them. Now add these amlas to the blender with 2 cups of water. Blend smooth. Check if the consistency is thick. Add more water and blend again to get the right consistency. Strain the amla juice and add some honey to it. Drink this juice everyday for beautiful, young looking skin. Just in a few days, you will see some amazing changes in your skin.
This natural drink is not only good for your skin but for your overall health too. Both amla and honey are great ingredients for your health. If this drink doesn't suit your body and you feel unusual changes then stop taking it immediately. Consult your doctor before adding it to your diet if you are suffering from any health issues.