If you haven't heard, skincare has been quite popular recently. The skincare industry has been rising faster than any other in the beauty industry. And why not? Good skin care is crucial for a variety of reasons. It keeps your skin in good shape. It is critical to maintain your skin's radiance and overall health. A good skincare routine can help you avoid acne, reduce wrinkles, and maintain a youthful appearance. However, the increased need to maintain the skin healthy has driven up the pricing of these products to an all-time high.
But what most people don't realise is that you don't need to spend a lot of money on skin care if you use things from your kitchen. When the weather is too hot and humid, the skin becomes rough and tanned. Sweat and filth constantly clog pores on the skin, resulting in uneven skin tone. However, you don't have to break the bank because certain common household products can work wonders for your skin. So, go to the kitchen and find some neem and aloe vera. While neem is high in fatty acids and disinfectants, aloe vera is high in vitamins, enzymes, minerals, sugars, lignin, saponins, salicylic acid, and amino acids. All of these nutrients are beneficial for the skin.
Ms. Pooja Nagdev, Aromatherpist, Cosmetologist, and Founder of Inatur shared benefits of adding aloe vera and neem leaves to our skincare routine.Read on to know.
Aloe Vera And Neem Clear Your Skin
Acne is frequently caused by clogged pores, which can be aggravating to deal with. Applying neem to the affected regions or drinking a small amount of neem juice will aid in the removal of bacteria that cause acne and skin outbreaks.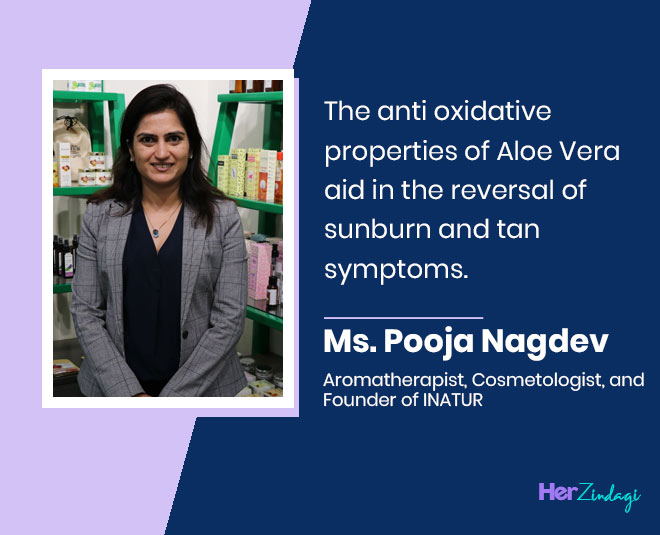 Aloe vera, on the other hand, promotes skin regeneration and smoothness. When these two wonder chemicals are combined, they can unclog pores and eradicate blackheads and whiteheads without drying out the skin or leaving behind flaky peels.
Aloe Vera And Neem Heal Sunburn And Remove Tan
Overexposure to the sun's ultraviolet (UV) radiation can result in sunburn, which is characterised by red, swollen, and painful skin. The antioxidative properties of aloe vera aid in the reversal of sunburn and tan symptoms. Neem has anti-inflammatory effects and aids in the reduction of germ/filth deposition on the skin caused by perspiration and grime. As a result, it provides long-term environmental protection, particularly when used in typical skin/hygiene products such as a body wash.
Don't Miss: Try These Aloe Vera Gel Homemade Packs For Glowing Skin
Aloe Vera And Neem Hydrate Your Skin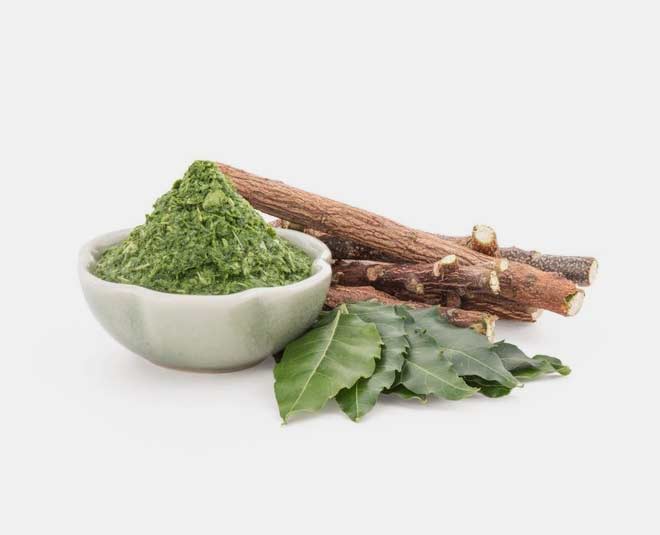 When it comes to your skin, summers aren't exactly your best friend. Include aloe vera and neem in your skincare routine to naturally moisturise the skin without making it appear greasy. Aloe vera extract forms a skin barrier that keeps the skin cool and hydrated. Aloe vera's anti-inflammatory characteristics make it an excellent moisturising gel. Neem also has hydrating benefits for the skin. To calm inflamed skin, combine neem oil with aloe vera gel.
Don't Miss: Neem Cubes Can Help You Treat A Lot Of Skin Woes
Though both neem and aloe vera are completely natural and should have no side effects for any skin types, make sure you do a patch test on your hand before applying any of these ingredients directly on your face.
For more such beauty related stories, stay tuned!