Tv actress Aalisha Panwar is known for her charming personality, besides her acting chops. Over the years, she became a household name with a massive fan following. Her roles both as the protagonist (Aarohi) and antagonist (Tara) on Colors TV's show, Ishq Mein Marjawan garnered her much love and appreciation. Her current work in Star Bharat's show, Meri Gudiyan, wherein she is playing a character named Madhuri is also being loved by one and all. Other than her acting, the star's fans have often been seen asking her about her beauty secrets on her social media handles. So, Hz decided to catch up with her and find out her beauty regimen. Luckily, Aalisha shared some very simple home remedies that she learned from her mother.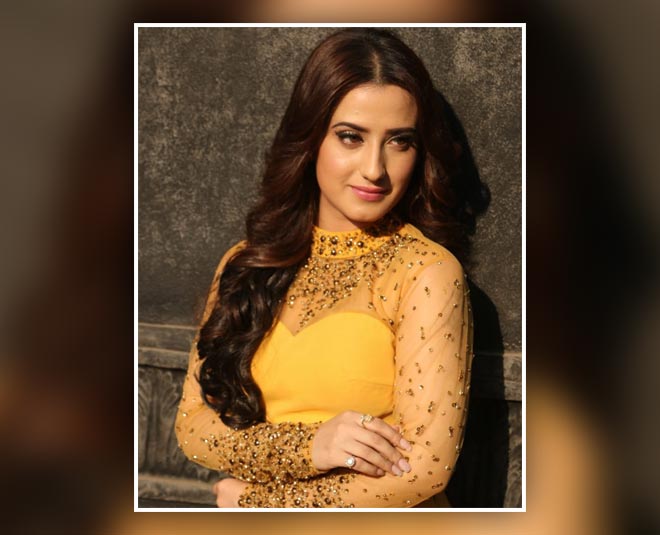 "This home remedy has been passed on to me by my mother and I usually use this at home, Especially, I am using this nuskha during this lockdown. It is a simple Haldi Chandan face pack. The recipe is easy but requires a bit of effort. Take raw turmeric and then you grind it into a fine powder. Mix it with Chandan and pour a half tablespoon of rosewater or normal water to make this pack for your face. Apply on your face and let it sit for 15-20 minutes. Lastly, rinse it off with cold water," Aalisha Panwar told Hz during an exclusive interview.
"This helps to maintain the glow on the skin. Since it has been made from all the natural ingredients, this is great to clear the pores, remove dark spots and dirt that is clogged on your face. And, most importantly it instantly refreshes your skin," she added. Other than abiding by this all-natural home remedy, the 24-year-old television star only uses "gel-based or water-based" skincare products and keep a distance from a few beauty products and food items to avoid breakouts and skin problems in this hot, humid season.
"During summers I make sure that the skincare products I am using, such as lotions and moisturisers are all gel-based or water-based. This helps the skin to remain hydrated, oil-free, and away from pimples, and other skin woes. When it comes to my hair, I never use conditioner in summers because naturally, they don't need extra conditioning during this season. It is generally winters when the hair becomes frizzy and that's when I use it. In summers, I avoid using such products because it is not very beneficial," said Aalisha.
"There are a few other things that I follow during summers, such as, I never eat nuts like almonds without soaking them in water overnight. Also, I only eat it in a limited amount because one should avoid food items that are meant to provide warmth to the body," she added.
Aalisha Panwar, who started her acting career in 2012 with the film Akkad Bakkad Bambe Bo and made her television debut as Najma in Begusarai in 2015 talked about her initial days in the entertainment industry and revealed how she remained confident about her looks and the way she carried herself during her high highs and lows. "I started my career at a very young age and started shooting for my first show just after passing out from school. When you're that young, you naturally have baby fat on your checks, tummy, and a little bit on other parts of the body. Initially, I was not used to gyms and workouts at that time, but then I start learning slowly after hearing comments from some people about my appearance. But. I looked in the mirror and told myself, I have something in me and that's why I am here. One should work towards improving themselves, however, it shouldn't be because someone made a comment," she revealed.
Don't Miss: DIY Betel Face Packs To Fight Skin Problems This Summer
Giving advice to young girls on being confident about their looks, the actress said, "As teenagers, girls start becoming conscious about their looks and appearances. I have been through the same stage. Pimple, black spots, split ends are all normal, but it should not get to you, this is the key to deal with it properly. Do not just pick any product and start using it, drink copious amount of water and do a little bit of yoga, it will help you to reduce the number of breakouts on your skin," said the actress.
Don't Miss: The Ultimate Skin Care Regime For Those Turning 30
During this unprecedented lockdown, Aalisha has stuck alone in Mumbai, whereas her family is in Shimla. She shared how she is spending time while being alone at home. "Initially it was a bit suffocating, but slowly I am becoming used to this. Now, I have learned to enjoy my company by pampering and rejuvenating myself," said Aalisha.
Image Courtesy: Instagram (aalishapanwar157)
Did you like this article ?